Mexico's best villas to rent
Mexico's best villas to rent
Mexico is a multi cultural country with some of the most beautiful landscapes in the world. It has become a very popular destination for travellers.
To read more about Mexico click here
Time and again we are asked to recommend Mexico's best villas to rent. Here are some of our favourite of Mexico's best villas to rent:
Casa Tres Soles is one of the most beautiful homes in Punta Mita. It sits on a cliff with uninterrupted ocean views in all directions. Offering 9 bedrooms this is a wonderful villa for a large party celebration. Ideal for families or groups of friends. We believe it deserves a place amongst any list of Mexico's best villas to rent.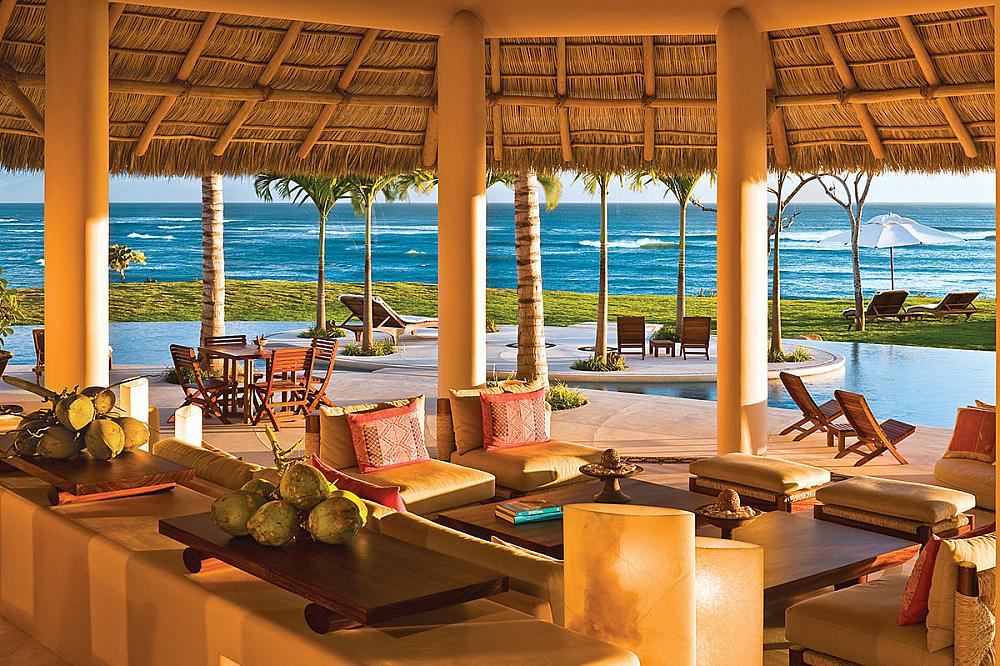 An extraordinary feeling of peace and serenity pervades the entire property. Notable works of art by renowned artists and craftsmen enhance every room of this magnificent house.
Surrounded by stunning ocean views, the oval shaped terrace is elegantly furnished with oversized sofas. There are hand embroidered fabrics, indigenous art and renowned Mexican craft works. The view of the ocean merging with the edge of the pool will leave a lasting impression.
The main palapa is surrounded by terraces that seem to float over the curving pool. The pool has more than 160 feet of infinity edge.
The bar is a sculptural piece of art handcrafted from tropical hardwoods. It can seat up to 8 people comfortably.
The villa also provides a sauna, massage room and a fully equipped gym with satellite TVs.
There are 9 beautiful bedrooms all with en suite bathrooms and flat screen TVs. Many of the bedrooms have outdoor terraces.
This is a beautiful home with luxurious, authentic, Mexican style and furnishings. It would be a joy to stay here.
Villa Carmen is a magnificent 5 bedroom contemporary villa. It has been designed to take full advantage of light and space. It is certainly one of Mexico's best villas to rent.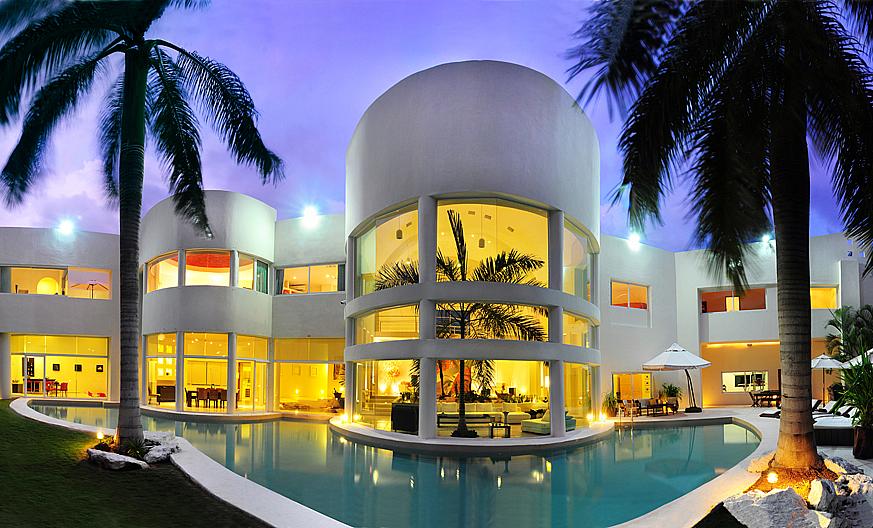 Villa Carmen has modern minimalistic interiors. You will feel a sense of simplicity and freshness throughout. There are Italian porcelain floors, Catalan vaulted ceilings and glorious colours for the furnishings. The walls are adorned in art.
The curved full length windows and skylights bring the outdoors inside with views onto the stunning pool and tropical gardens. There is a sense of tranquillity as you enter the villa with the beautiful indoor garden and water features.
The outdoor dining area is perfect for eating outside. There are sun loungers along the side of the pool terrace. There is also a gym with squash court to work off those extra calories.
The five bedrooms are all sumptuous with en suite bathrooms. The master suite is exception and has his and her en-suite bathrooms. TIt also has a Jacuzzi overlooking the garden, a peaceful massage area and private terrace.
All the bedroom suites have air-conditioning, TVs and telephones.
If you are interested in Villa Carmen contact us today
Casia Bahia Rocas offers the ambience of a mini resort. It has 9-bedrooms and is 12,000 square feet. It is set on an expansive two acre plot and comes with staff.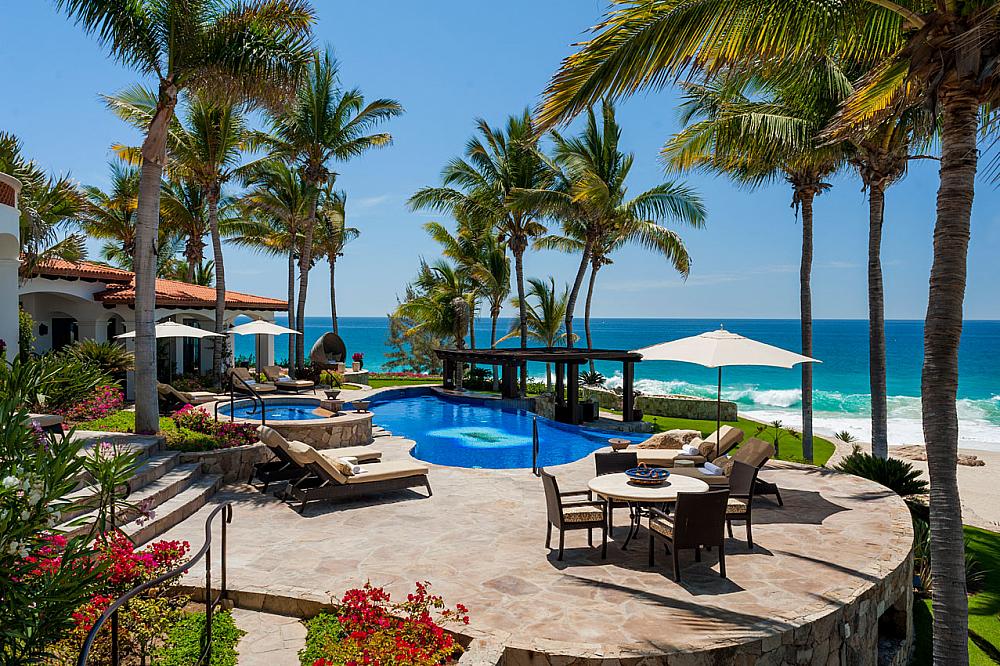 The villa enjoys a desirable position just steps right away from a secluded beach. It features a stunning private pool deck with spa and a beachfront fire pit. There is a separate guest cottage and a tennis court.
Casa Bahia Rocas provides classically luxurious interiors. There are touches of Mexican art and color. A large indoor living room boasts a feature floor-to-ceiling fireplace and is a beautiful place to gather together.
Outside guests may enjoy the free-form infinity pool with swim-up bar that overlooks the Sea of Cortez. At night the jacuzzi is a perfect setting to unwind and admire Mexico's incredible sunsets.
Amenities at Casa Bahia Rocas are first class. The expert staff include a concierge, full-time butler and a chef. The chef will prepare delicious breakfasts, lunches and dinners. There is daily housekeeping and turndown service.
The estate is equipped with a lighted, synthetic grass tennis court and an outdoor BBQ. A golf cart is included in the rental for transportation to Palmilla's three world-class golf courses.
If you are interested in renting Casia Bahia Rocas or any of the other of Mexico's best villas to rent contact us today
For villas in other destinations visit worldwidedreamvillas.com
For villas in other parts of the Caribbean visit Caribbeandreamvillas.com
For villas in Barbados visit barbadosdreamvillas.com